<![if !vml]><![endif]><![if !vml]><![endif]>RACE TEAM TRANSPORT
2010 Mercedes Sprinter
Bought from Mercedes Benz of San Diego in September 2010, model is 2500 long wheel base with standard high roof so can stand upright inside without hitting head on the roof. Did not go for super extended version which was only slightly more expensive as did not feel need for the extra space and the added length would make parking etc. even more difficult, as it is over 20 feet long it can be difficult enough and some public parking lots won't allow "oversized" vehicles such as this. This specific van had the V19 cargo package which includes wall liners (but not roof) and a track system in floor for securing cargo and worked well for conversion.
<![if !vml]>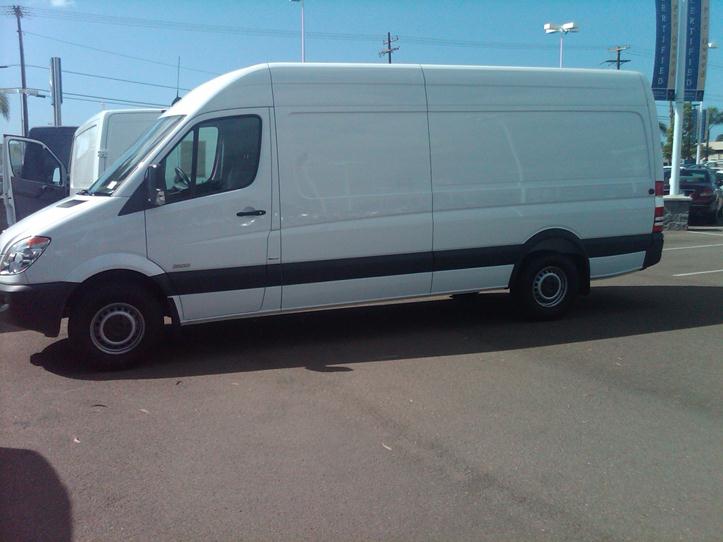 <![endif]>
<![if !vml]>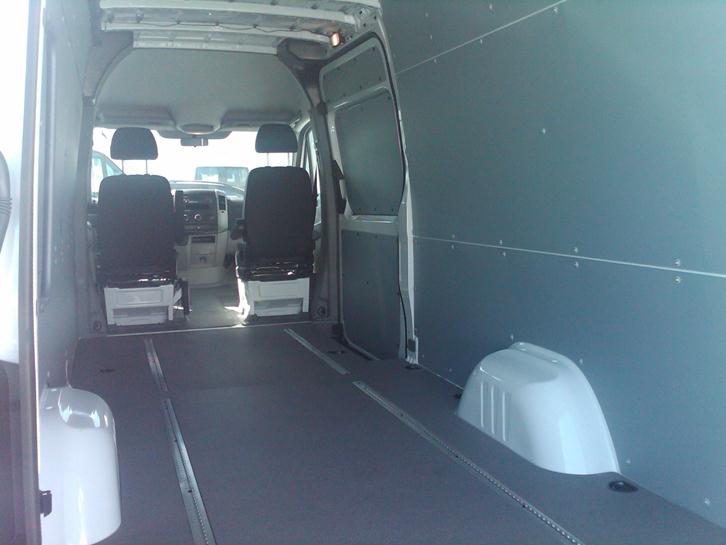 <![endif]>
Comfort Upgrades
Comfort was very important as will be "living" in the van quite a bit going to races all over the place and spending weeks at a time in the van. As such put together a design concept then did following modifications:
Covers/insulation for front screen and side windows
Styrofoam insulation for roof then covered in felt
Fiberglass insulation in walls
Bulkhead incorporating bed platform to create separate living area and bike / dirty rear area.
Fiamma awning (to be installed)
Storage areas in front for clothes, food
Storage areas in rear for tools, spares, fuel
<![if !vml]>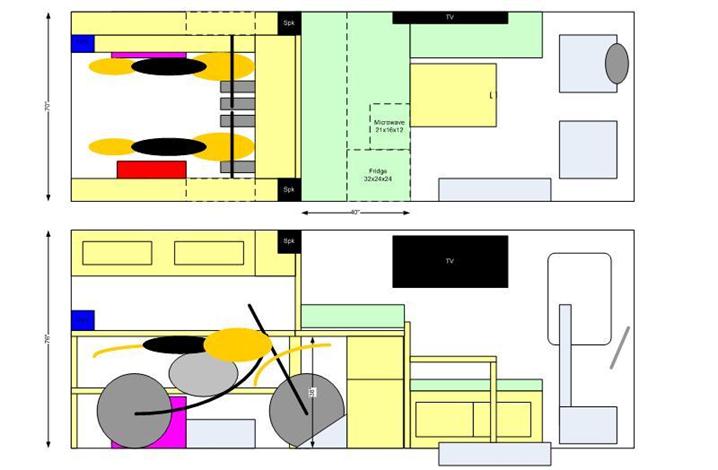 <![endif]>
First part of upgrade showing bulkhead partition with bed and fridge.
<![if !vml]>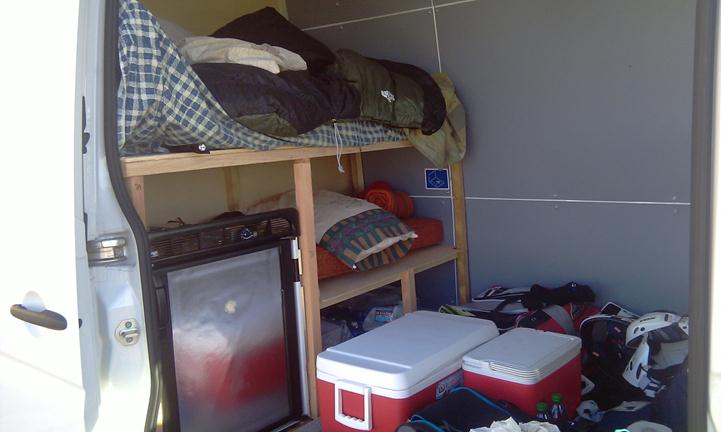 <![endif]>
<![if !vml]>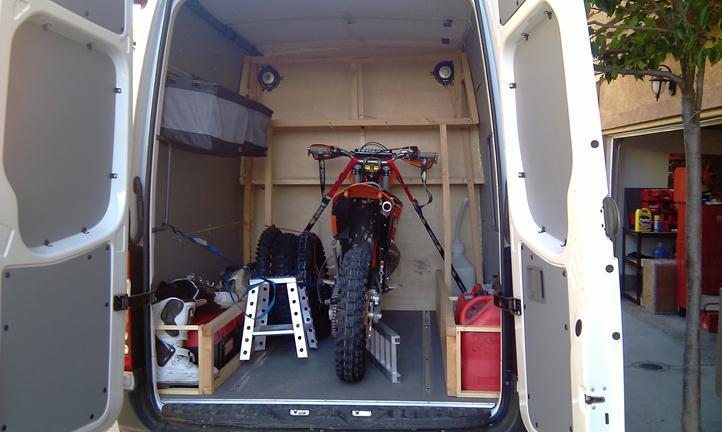 <![endif]>
Electrical Upgrades
30A shore power connection
Honda 2Kw super quiet generator
1500w inverter
Auxiliary battery and separator
Extra lights
AC/DC refrigerator
32 inch wall mounted Sony LCD TV
Alpine 200w amplifier and speakers
Performance Upgrades
Nothing as yet but Sprinter Store have some things that look good:
<![if !supportLists]>· <![endif]>K+N air filter for more power and increased fuel consumption
<![if !supportLists]>· <![endif]>Chip for more power and increased fuel consumption
Other Changes/Upgrades to be done
Battery charger from generator or shore power
Solar charging, have panel
Air conditioning, maybe but don't want to make it any higher
Insulate doors
<![if !vml]>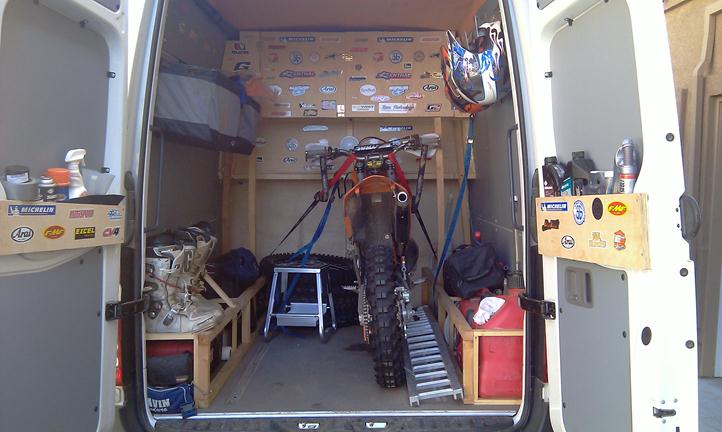 <![endif]>
<![if !vml]>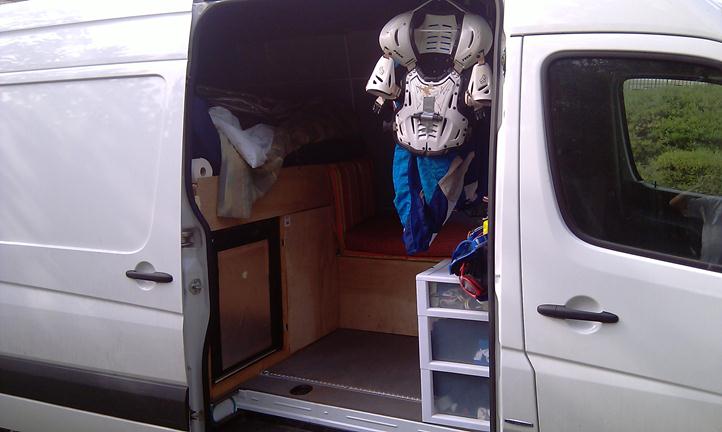 <![endif]>
Good Points
Easy to drive, comfortable seat and cruises easy at 75 mph plus high driving position give great visibility
Plenty of room in both areas, 2 bikes plus loads of gear, 3 bikes will probably be OK in rear
Does not attract attention as plain white, no rear windows for anyone to see bikes inside
Good fuel consumption (~20mpg) as compared to an RV
Easy loading with low floor height
Can stand upright inside
Bad Points
Gearing is bit low, maybe needed on fully loaded 3500 but is revving too much at freeway speeds and using more fuel than necessary.
Being diesel it's now apparent that some fuel / service stations don't see diesel, and those that do have very few pumps so can be a bit of a pain
Brakes not great, no bite and need quite a bit of pressure
Big to drive around and difficult to park, also height can be issue with some car parks
Not good in mud but have not tried with traction control disabled
Side door does not close properly unless slammed
Headlights not great, may try adjusting and / or get better bulbs as will be driving at night quite regular
Bed bit short across width of van for 6 foot +, overall not as comfortable as an RV, maybe alternative layout would be better
Servicing is expensive
Only 2 seats in front
Big sail area and can be difficult to drive in cross winds